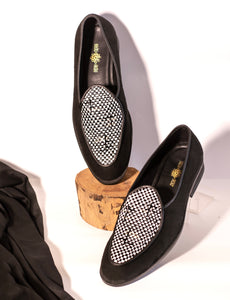 Black Palatine Ghingam Loafers
Rs. 6,136.00

Rs. 6,136.00
Tax included.
Shipping
calculated at checkout.
---
---
Nothing spells classic like a pair of black shoes. These Palatine Gingham Loafers offer a comfortable structure with the finest cuts while keeping your classy look intact! 

Sitting comfortably on your feet, these pairs are coupled with the comforts of a busy urban life and the aesthetics of the modern man.

Pair them with any outfit and let the black color do the work for you.
Product Details :
*MADE TO ORDER*
Colour : Black
Material : Vegan Leather/ Suede
Sole : PU Soles
Style : Loafers
Padding : Thick Foam Padding for Comfort